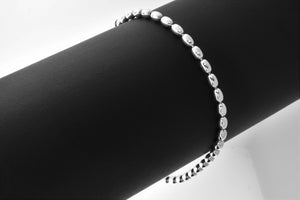 Charleston Rice Bead Bracelets and Anklets
The Charleston Rice Bead
Our most popular item and best seller is the Charleston Rice Bead Necklaces and Bracelets. Our rice beads are solid sterling silver throughout and not hollow in the center of the beads, therefore, our rice rice beads have the integrity to hold up for years with day to day wear.
A Brief History of the Charleston Rice
South Carolina was the largest producer of rice in America during the Colonial Period. The crop arrived in the area around 1685, when a ship sailed off course from the Island of Madagascar and landed in Charleston in need of repairs. The captain of the ship expressed his gratitude by giving the Governor of the colony some rice grains. From that point on, rice became a primary export of Charleston. Today, rice still symbolizes Charleston's bountiful history and remains an iconic product to South Carolina.
---
We Also Recommend