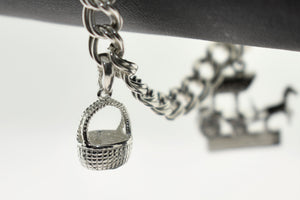 Sterling Silver Sweet Grass Basket
This sterling silver charm represents the craft and culture of basket making by skilled artisans throughout the lowcountry. It makes an excellent addition to the Charleston charm collection.
The art of coiled basket making was introduced to the lowcountry in the 17th century by African slaves who utilized this skill to weave baskets for plantation use and rice cultivation. Basket making has evolved from an agricultural craft to an an art form produced for sale in the lowcountry.
---
We Also Recommend